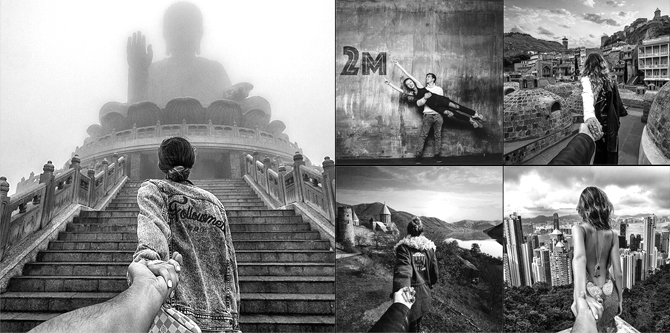 The Art of Instagram
Posted on January 15, 2015 by Claire Owens
Some of us post pictures of our dogs, some our cats, some our food, and some our #OOTD. As instafamous as we all wish we were, there are people on Instagram who are actually posting works of art, #nofilter required. In the midst of all the posts from my friends and brands I follow, it's nice to have a break in the chaos and see some genuinely unique, cool, and stunning shots in my feed.
I'm here to highlight some artists that I've stumbled across and followed over the last few years, whose work I really recommend checking out. Most of these accounts have gained popularity solely from showing off their stuff on Instagram. It's time to branch out, people!
@muradosmann
A simple concept from this super-traveller and his girlfriend. Murad Osmann documents his journey around the world as he is "led" by his girlfriend. His project has captured the hearts and minds of Instagrammers everywhere. Can you say ~romance~!

Photo via muradosmann on Instagram
@kapstand
Another simple concept to document travels (maybe I'm suffering from wanderlust?) is the OneHandStand project. Kapstand is a breakdancer who recently moved to Paris and began posting shots of himself doing a one-handed handstand in front of notable places. Instant fame!

Photo via kapstand on Instagram
@idafrosk
I discovered Ida Frosk a few years ago and have always loved seeing her stuff pop up on my feed. She turns her food into art and shares it on Instagram before eating it – yes, that's right, her claim to fame is that she actually does eat her creations! Kind of cutesy, but creative nonetheless.

Photo via idafrosk on Instagram
@mommasgonecity
Jessica Shyba had a baby, got a puppy, and the rest is history. She then began snapping bird's-eye view shots of them both napping in hilarious positions together. Titling the project #TheoandBeau, she would post a new shot of the two cuddling almost every day. She recently had a second baby and has thrown her into the mix too. This one will make you feel all the feels, trust.
Photo via mommasgonecity on Instagram
@every_hey
This project came from Hey Studio, a graphic design company in Spain. They post a new graphic of some pop-culture character almost every single day. Again, a really fun and simple idea that breaks the norm on Instagram.
Photo via every_hey on Instagram
@ihavethisthingwithfloors
I discovered this account when I saw Reese Witherspoon post about it a week or so ago. They re-post shots of feet atop of some of the most beautiful floors you'll ever see. This is one of the more visually-pleasing accounts of the bunch. I love it! Photo via ihavethisthingwithfloors on Instagram
@cintascotch
This account is so unbelievably clever and funny. Javier Perez is an illustrator who uses everyday objects and draws around them to make an image. Brands such as Extra and Happy Socks have even taken to his talent for some of their ad campaigns.

Photo via cintascotch on Instagram
Have any must-follow accounts in your feed? Share them with me on Twitter !