I am a Tweeter, hear me Tweet!
Posted on May 30, 2013 by Hafsa Pathan
Twitter is my favourite social media platform. I enjoy it solely because I can talk about whatever I want or update as often as I want without feeling annoying. Sometimes it gets a little irritating. Like last week , when we saw an increase in my two least favourite type of people: bandwagon jumpers and slacktivists: Those that tweet just to fit in with their Go Leafs Go and #prayforOklahoma tweets.
This week, we had a chance to experience a side of Twitter I really enjoy. Where Tweeple from all across the Twitterverse form a peaceful movement and take a stand. It was a lesson in killing them with kindness, or rather humour.
Over the years, we've seen how Twitter is the perfect platform for those who aren't used to having their voices heard.  Whether you're updating us on your hour-to-hour daily agenda or sharing insightful comments, it's great – especially for the unheard.
In the summer of 2012, we had the opportunity to see an example of a pleasant and humorous response to hatred and ignorance when Newsweek published its controversial "Muslim Rage" cover and sparked this response.
On Wednesday, Telegraph journalist wrote this article titled "How to spot a terrorist."
Muslims all over the Twitterverse decided to unleash their 'Muslim rage' once again:

Or my personal favourite: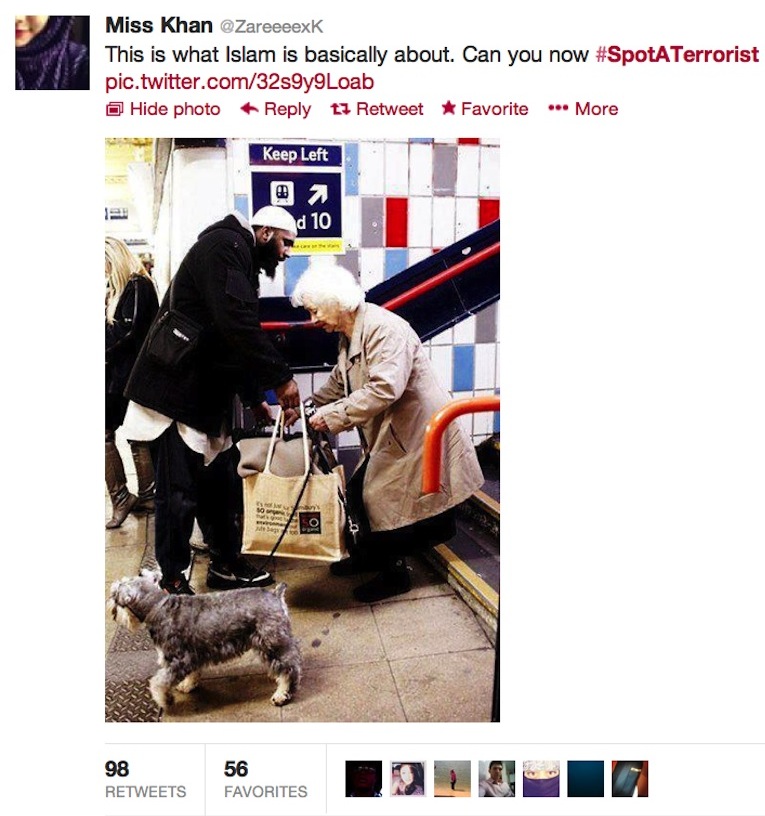 Ah, Twitter. The voice of the people.
What did you think of the response to #spotaterrorist? Is Twitter a great platform to air your thoughts? Why do you tweet?
Leave a comment below or join the conversation on Twitter !
Hafsa is a Social Media Coordinator at 88 Creative. Follow her on Twitter at @Hafs__ .