Brainstorming, Bonding & BBQing at the First Annual 88 Creative Retreat
Posted on August 5, 2014 by Claire Owens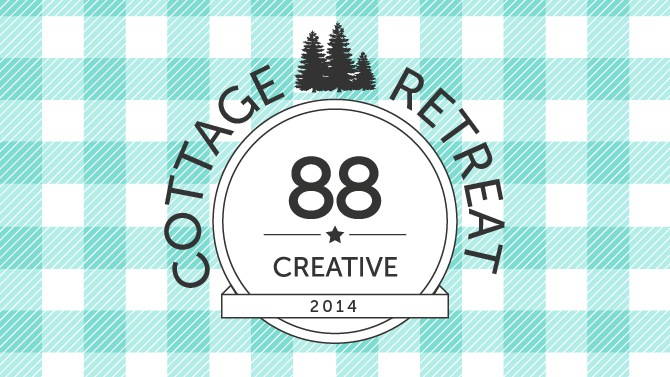 Last week we had our first annual 88 Creative Retreat!
Now, what you're about to read will probably make you wish you could work here just so you could have gotten in on the action. So, sorry in advance. Here's what went down:
First of all, lucky for us, our fearless leader Matt from BuzzBuzzHome let us borrow his family cottage for the two-day event. His Muskoka cottage is the site of BuzzBuzzHome's Muskoka Retreat for real estate industry folks every year, so it was nice to have it to ourselves. The second we got there we hopped in our bathing suits and (most of us) jumped in the lake. The next 24 hours were full of BBQ'd food, dock hangouts, and, of course, sitting in Muskoka chairs.
We wanted to go on a company retreat for a few reasons. First, sometimes it's just plain nice to relax and get away during the week. Second, switching up where you're coming up with your brilliant ideas can spark even more brilliant ideas. Getting away from the office and giving yourself a new (and in our case, really beautiful) environment can often be the key. Our retreat was all about brainstorming (oh, and BBQing), so we figured what better way to think of big and creative ideas than to be in the great outdoors. Sometimes brainstorming in the same place all the time can keep you stuck in one way of thinking, which we definitely don't want over here at 88 Creative.
Another great thing about retreats? You get to hang with your co-workers in an unusual setting. We all had a ton of fun chilling by the lake, playing Scattergories, and of course coming up with amazing campaign ideas you'll see later this year.
Sometimes getting away from the office can bring out a whole new side of you too! For instance, Hafsa went on a boat for the first time:
And Claudine had her first experience in Canadian cottage country:
Both moments we took photographic proof of, of course.
All in all, our first 88 Creative retreat was a success. We even took time to brainstorm where our next retreat will be, some of the options being a week long trip to Havana or Canada's Wonderland (editor's note: apparently my team thinks the retreat budget is one million dollars – Erin).
Have you ever been on a company retreat? What do you think the benefits are?