Look Who's Talking Now: Branding Your Kids
Posted on January 20, 2014 by Hafsa Pathan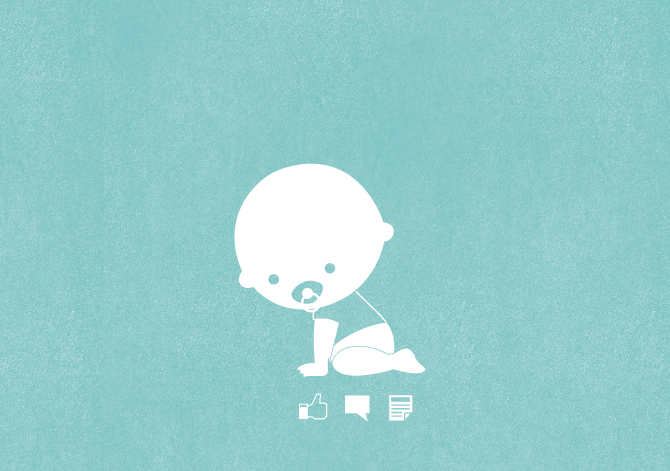 Are you a parent who shares your child's every accomplishment on social media? From posting sonograms to capturing their first moments in this world, some parents like to share it all. Then there's the other end of the spectrum where parents blur out their kids' faces, or only using initials when talking about them online (or, even worse, making up silly nicknames for them). And then there's obviously those that fall in between, sharing a bit but not a lot.
I asked my Facebook friends whether they're pro- or anti-social media when it comes to their kids, and was overwhelmed with the amount of responses I received. Everyone had their share of reasons why they post pictures (sharing with family who live abroad, or wanting to simply show off their new baby) or their reasons why not (it's unsafe, or a form of exploitation).  There's also the select group of parents who want their kids to be social media stars, the Facebook version of Honey Boo Boo.
But a few friends brought up a really good point – once you put up pictures of your kids online, it can end up anywhere.
Remember late last year when a deceased girl's image was used in a dating ad on Facebook ? Poor Rehtaeh Parsons was sexually assaulted, bullied and then attempted to take her own life. She ended up in a coma and then passed away when she was taken off life support.
Facebook used a picture of Rehtaeh in a dating ad that  read "Find Love In Canada! Meet Canadian girls and women for friendship, dating or relationships! Signup now!" Facebook later issued an apology claiming it was a "gross violation" of the company's policies, and then removed the advertisement. But the damage was done.
Let's hope that was a one-off incident, but then you hear of stories of children's pictures being used in advertisements all around the world. A few weeks ago American Apparel was called out for using a picture of a baby snuggling with a dog (yes, admittedly über cute) and not crediting the mommy blogger who originally posted the picture.
Those cases are more common, and many parents and individuals are not okay with that. Your kids may not be harmed from sharing your baby pictures online, but do you really want strangers seeing them grow up online?
For people who want to share pictures with their loved ones, I don't blame you. Posting on Instagram or Facebook is much easier than sending out emails with dozens of pictures attached.  There are safe alternatives to these mainstream platforms though including FamilyLeaf , a social network specifically for families.
So next time you want to post a picture of your adorable toddler, step back and think of whether or not you want to see that picture in an advertisement halfway across the world . Maybe posting a picture of your breakfast is a better idea after all.
Disclaimer: The author of this blog post did not have any children at the time of writing this post. Her views and opinions on the matter may change when she is afflicted  with baby fever, influxed with prenatal hormones, and/or on maternity leave.
Disclaimer #2: The author of this blog post loves babies. Few things make her squeal in delight more than babies with their little feet, in their little socks, doing cute baby things. She is not a baby hater.
Hafsa is a Social Media Coordinator at 88 Creative. Follow her on Twitter at @Hafs__ .