Startups we love: The Goods
Posted on August 28, 2013 by Gabriella Rackoff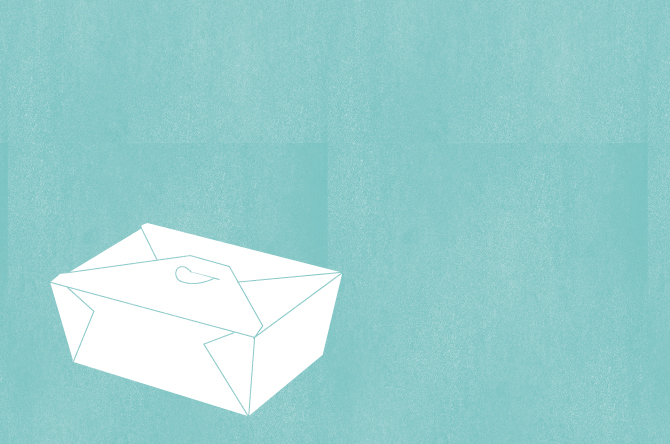 As someone who works for a startup, I'm naturally drawn to other startups. Yesterday I got the chance to sit down with Lisa Labute and Cat Parker, the two ladies behind The Goods , a vegan lunch delivery service. I also got a great lunch out of it that I'm still thinking about today.
What is The Goods and who are your customers?
Lisa Labute: We help people integrate really good food into their lifestyle. We started out doing classes and writing a blog with recipes and tips. The idea was just to give people options. If you normally have a sandwich for lunch, here's something else you can try. But then we found that a lot of our followers just wanted us to do it for them.
Most of our customers are in the 30-45 age group, mostly women but men too, who are starting to notice that their bodies are changing and they don't feel good when they aren't eating well. The market is flooded with health information, and we wanted to give them an alternative.
Most of our delivery clients are at ad agencies and marketing companies. We do the whole King Corridor from Parkdale to the DVP. There's another dense pocket at Bloor and Church. Capital C was our first delivery client. I was there talking to a friend and she asked us to make her lunch. Three coworkers joined in and six months later we had 150 customers.
Tell me about your backgrounds in advertising.
LL: We worked together at Cossette as producers years ago and became really good friends. I quit my job and did a four-week intensive on raw food in Indonesia. I came back and Cat had just had her second baby. She ended up losing a lot of weight following what I learned in the course. We started teaching classes together and it went from there.
How does your background in advertising help you run a business like this?
LL: It would not have been possible without having worked in advertising. We use those skills every single day.
The whole operation is essentially set up like a mass media campaign. The only reason I know how to handle the costing and financing is that I costed mass media campaigns. Even being able to use Excel at this level is due to my experience in the agency world.
Cat Parker: In fact, the only experience we haven't used is our advertising experience. Right now our business is strictly word of mouth.
How could you scale something like this when it's so hands on?
LL: Right now we only have a production kitchen and we're on the fence about whether or not we want a storefront. we work out of Brockton General , which is quickly becoming too small, but we love it there. We're working on getting our own, larger production kitchen. We have a kitchen team of three or four people, and the max we can handle this way is about 150 meals.
The next step is pods. I don't ever want our food to be mass produced. The people in the kitchen know the customers and we make little adjustments for each person. We're not making food for resale, we're making people's lunches.
How do you develop your recipes?
LL: The first two salads were my own ideas, but the rest come out of listening to people and looking for trends.
CP: Our business has grown very quickly because we listen to our customers. That comes from working in advertising. and customer service. We want every customer to be happy no matter what.
LL: We choose not to overly automate our system because we want that communication with the customer. we have customers emailing us all the time. Our whole process is based around people and relationships.
How do you keep the prices under control?
That's really important to me. Healthy food in this city is priced out of most people's range. Once people experience food that's this clean, it opens their eyes and they choose to eat better in general, so I want to make it accessible.
There's a methodology I use the keep the food in a certain range and I also don't mark it up as much as I could. We also have relationships with local family-owned produce suppliers.
How do you make your food appeal to a wider audience?
LL: We actually don't have any vegan customers, let alone raw vegan. Very few are even vegetarians. I'm the only one who eats this way all the time. But I only started eating like this recently. I come from a normal eating background so I know what people want to eat. I include cooked gluten-free grains and beans because people find it more satisfying than a purely raw bowl. Our dressings are the money though. That's what people can't get enough of.
CP: Plus, this is just one meal. You can have anything you want for dinner, but you're doing a lot of good to your body by having a lunch like this. And people feel better for the rest of the afternoon.
Describe a day in the life of The Goods.
LL: Cat is at the computer all day processing requests. We talk every day, bouncing ideas. I get to the kitchen between 7:00 and 7:30 to prep food and the staff comes in at 8:00. We have an amazing staff of people who are really enthusiastic about being there. I do the dressings. That's my thing.
We're in the kitchen until 11:30 and then the deliveries start. We work with Send It Courier who do much of the route on bikes and I do some with my car.  After lunch I go shopping for ingredients for the next day. Then I find a coffee shop and go through emails, or blog, or work on billing and there's a ton to do with the process and logistics. We're still setting some things up. Sundays we go through the order forms and make sure everything is in order for the week.
CP: Because we only deliver from Monday to Thursday, on Thursday mornings we put up the new menu.
LL: And Cat sends out a daily email telling you what you're eating that day. She interjects her own unique brand of humour into them so it's really personal. We always get great feedback on Cat's emails and they get us a lot of followers. It doesn't seem like a big deal, but it's our way of keeping in touch with our customers. Knowing what ingredients you're consuming and why they're so good for you can make all the difference. Even if you just get inspired to cut out soda from eating these lunches, it makes a big difference.
Cat: The other thing about whole food is this: it isn't some crazy idea that Lisa and I came up with. If you put good, unprocessed food into your body, your body will work the way it's supposed to. You never have to diet or count calories or anything.
Depending on the location, you need to spend between $50 and $65 per day to qualify for delivery, so get your coworkers on board. Stock up on lunch for the next day or get some extra smoothies if you fall a bit short. You won't regret it.
Thanks to Lisa and Cat for doing this interview and best of luck to everyone at The Goods!
Gabriella is a Creative Director at 88 Creative. Follow her on Twitter @gabriellainga .