Love Your 'Hood With Vicinity's Loyalty Program
Posted on January 14, 2014 by Erin Bury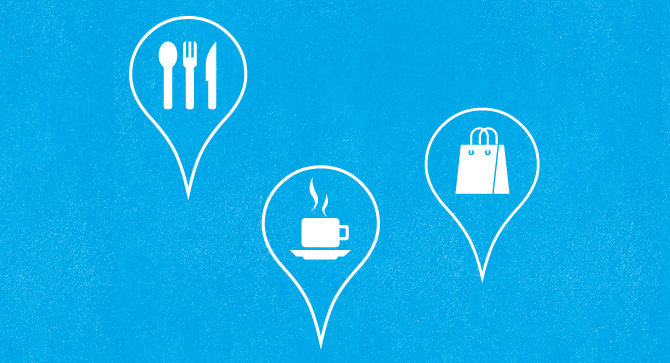 At 88 Creative we've made no secret of our love for local businesses. When our office was in Parkdale we frequented The Mascot coffee shop, the Drake for patio drinks, and the Gladstone for some off-key karaoke. Now that we're at Adelaide & Peter, there are so many great local spots – you can bet that in any given week we're having Dark Horse Americanos, Le Gourmand's famous chocolate chip cookies, and Khao San Road's to-die-for khao soi (seriously, the most delicious dish in Toronto), and we're working it all off with spin classes a Y Yoga or CYKL.
Since we heart local businesses, we're excited to announce that we're now working with Vicinity , a small business loyalty platform that rewards you for shopping local. Owned by Rogers, Vicinity launched in 2013 to help small businesses run their in-store loyalty platform easily and without having to design and print those old school stamp cards (I think I'm eligible for a free smoothie in 2016!).
If you're a business – like Dark Horse , Desmond & Beatrice cupcakes, or Mabel's Bakery , just to name a few of the Vicinity businesses in Toronto – the Vicinity platform connects with your existing point-of-sale system, and gives you a merchant dashboard to set up reward levels and send out email/SMS promotions. Customers sign up in-store (don't worry, there's not a 10-page application – they just give their phone number & voila, they're a member) and earn points every time they shop.
For customers, Vicinity is a great way to manage your rewards across all your fave local businesses. Because really, if I'm already buying that daily latte, why shouldn't I get a free scone once in a while? (Side note: screw you, New Year's resolution to eat healthy) The program is free, and you can use it at hundreds of businesses in Toronto, Kingston, and Ottawa, with more cities coming soon.
We'll be helping Vicinity with their social media presence, helping educate businesses on the program, and letting cardholders know about the rewards they can earn (and of course helping introduce local businesses you've never heard of. Unless you're a hipster, then you're way ahead of us).
So if you're a business, schedule a consultation to get set up. If you're a shopper, sign up for free to start getting free cupcakes, yoga classes, and coffees. And follow Vicinity on Twitter at @VicinityRewards and like us on Facebook to stay in the loop on how you can love your 'hood even more (hint: there might be some giveaways in your future if you do…).