Visual Designer Job Opening – POSITION CLOSED
Posted on December 4, 2014 by Erin Bury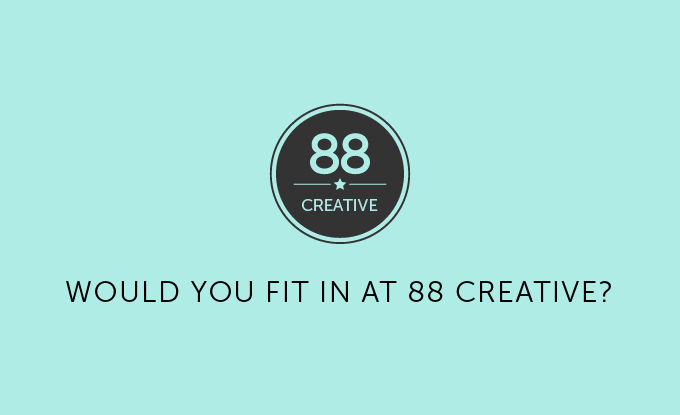 We're looking for a designer to work with our Creative Director on design projects for 88 Creative clients. As a designer at 88 Creative, you'll be working a range of projects including graphics for social media, email marketing pieces, branding and identity work, and occasionally websites. We work with clients ranging from two-person startups up to large companies, and we give them a distinct, consistent visual identity across media and platforms. Familiarity with major social networks is a huge asset. Feel free to send us links to your Twitter or Instagram account when you apply!
You have a clean, modern aesthetic and you thrive on collaboration and want to hone your skills amongst a talented team of creative designers and strategists. Ideal candidates will have portfolios demonstrating beautiful, thoughtful, and varied design solutions.
Why work at 88 Creative?
88 Creative is a boutique digital marketing & design agency based in Toronto. We currently work with clients in the real estate and lifestyle categories, helping clients start, grow, or enhance their online marketing efforts. We also specialize in branding, print design, and blog design. In the past year our agency has been featured in the Toronto Star, Marketing Magazine, and Digiday.
Our agency grew out of BuzzBuzzHome, Canada's largest new construction database. 
BuzzBuzzHome launched in 2009 and quickly become one of North America's most popular websites for new construction home buyers.
Where:
You'll be working at a brick and beam space at Spadina and Adelaide in the heart of downtown Toronto.
Responsibilities
Work on projects including branding, print and online ad design, email marketing campaigns, social media account design, promotional product branding, website redesigns, and other client design projects
Work on 88 Creative internal projects including marketing campaigns, design collateral, and maintaining our design portfolios
Collaborate with account teams on projects
Create pixel perfect PSDs
Produce faultless written specifications
Direct the implementation of your designs
Design a simpler, more usable and desirable product maintaining our visual language
Requirements:
BA/BS in Graphic Design or related field
Solid knowledge of front end markup: HTML/CSS
Well-versed in typographic and UI principles; color theory and brand communication
Advanced drawing skills – creating icons, diagrams and illustrations
Proficient in Adobe CS5 and above
Great creative problem solving skills
What we can offer:
Competitive salary
Flex days to use for vacation, personal days, and sick days
Unlimited snacks and pop
Comprehensive benefits
Employee stock options
Relaxed work environment and supportive team
Uber-casual dress code
Interested in applying? Sweet! Share with us why you'd like to work at 88 Creative and send along some samples of your work. Only applications with relevant work samples and/or portfolios will be considered. To apply please send your portfolio & a resume if applicable to 88 Creative's Creative Director Gabriella Rackoff at [email protected]