#HaveYourSelfie a Merry Little Christmas
Posted on December 18, 2014 by Erin Bury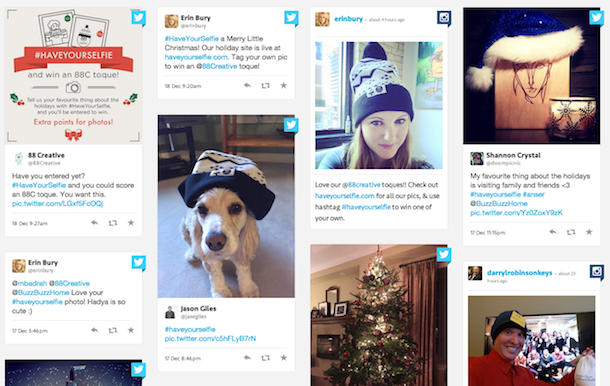 It's a well-known fact around the office that I'm obsessed with Christmas. Like "I have a theme for my wrapping paper, I PVR the Michael Buble Christmas special" obsessed. "I wait all year for Festive Specials, I listen to holiday playlists on Songza starting on November 1st" obsessed.
So naturally I take our holiday initiatives VERY seriously at 88 Creative. We have holiday-themed backgrounds on Twitter and Facebook . We have jazzed-up holiday logos for our social accounts. And naturally we had a themed Christmas party organized by yours truly that featured every holiday decor item sold at Target, and a pretty awesome holiday photo booth .
But our big initiative for the holidays is called #HaveYourSelfie a Merry Little Christmas . The idea is simple: we ordered almost 200 custom 88 Creative holiday toques from our friends at Rightsleeve , and we're sending them to our favourite people – clients, media, agency partners, friends. Each of those people is being asked to tag a toque selfie with #HaveYourSelfie, and all the holiday photos are featured at HaveYourSelfie.com (I know, I couldn't believe the URL was available either).
Not only that, we're giving away 10 of the custom toques to 10 random winners on our social channels. All you have to do to win is tell us why you love the holidays & tag your post with #HaveYourSelfie. We'll be announcing the winners end of day tomorrow!
I know you're being inundated with holiday cards & messages, but I do want to say happy holidays to everyone reading – whether you're a client, friend, or random internet stranger. If you're not on our email list, check our holiday e-blast below, and make sure you're on the list for next year. It's been an awesome year at 88 Creative, so THANK YOU to everyone who supported us in 2014. I know 2015 is going to be an even bigger, better year, and I can't wait to see what the new year brings!