But First, Let Me Take a Wedding Selfie
Posted on August 28, 2014 by Erin Bury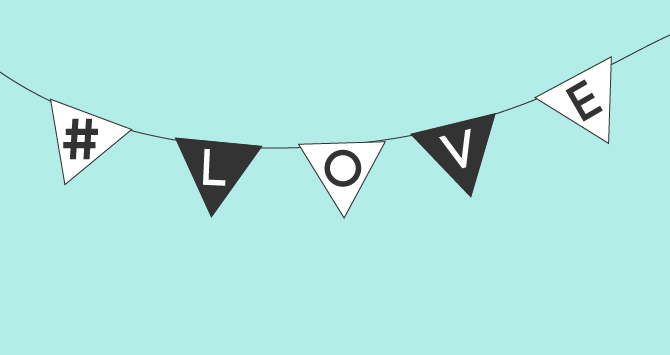 As I've approached 30 I've become a bit of a wedding expert. In the past three years I've been to over 15 weddings – I've been the emcee at two of those weddings, a bridesmaid at one, and I was the maid of honour in my best friend's wedding this past weekend. Sometimes I feel like Katherine Heigl's character in 27 Dresses, minus all the hideous taffeta dresses and the James Marsden love story. I love weddings though – the food, the drinks, the tear-jerking and often hilarious speeches, and of course the palpable sense of love in the air.
There's one key difference between the wedding I was in as a five-year-old flower girl in 1990, and the weddings I attend now: weddings are now splashed across social media, whether the happy couple wants to be Instagram-famous or not. Lately I've noticed that there's a divide between couples who embrace social media at their wedding and plaster their hashtag on all their printed pieces to encourage photo-sharing and updates; and the more private couples who prefer to let the professional photographer do their job, and encourage their guests to put down the smartphone and be more present during the ceremony.
My friends Kim and Dan recently got married at the Royal Conservatory in Toronto and requested that guests keep their smartphones away for the ceremony. Kim told The Globe and Mail that banning smartphones led to a more intimate feel, and that she's never been to a wedding where everyone was actually watching the bride and groom instead of trying to angle for a great photo. And photographers often lament the iPad-yielding guests who lean into the aisle and get in the way of them trying to capture great shots (people, just stop taking photos with your iPad in general. It's weird).
My best friend's wedding was decidedly social media friendly. The wedding party debated the hashtag for the wedding, finally settling on a combo of their last names. I watched from the altar last weekend as every guest held up their smartphone to capture a photo of my beautiful best friend as she walked down the aisle, and her groom even took the epic #weddingselfie below – take that Ellen. Many of the photos taken by guests were posted online before the night was over, and I even posted a few pics on my social channels – after all if the bride and groom are embracing social media, why shouldn't I?
For the bride and groom I would imagine Instagram and Facebook photos from the night let them see the evening through the eyes of their guests, and they give them photos to share so they don't have to wait weeks for the professional shots. It's the 2014 version of dropping disposable cameras on the tables a la Chandler and Monica on Friends.
But although I'm glued to my iPhone and use social media way more than the average wedding guest, at my wedding I plan to have a no-smartphone rule at the ceremony. Is it because I want my guests to be more present? Sure. Pay attention to me and not their smartphone? Sure. But mostly it's because I don't trust you to post flattering, well-lit, nice photos of me on the day when I'm supposed to look my best – please keep the blurry photos to yourself and let my photographer do their job. And please, no midnight dance-floor shots of me with red eyes and a glass of wine in my hand.
For wedding guests wondering about etiquette, it's always best to ask beforehand or when you're there. After all, no one wants to incur the wrath of a Bridezilla who's been social media scorned. What do you think? Should social media be embraced by the bride and groom?
Erin is the Managing Director at 88 Creative. Follow her on Twitter @erinbury.