11 Amazing Things I Found in Japan
Posted on October 22, 2014 by Gabriella Rackoff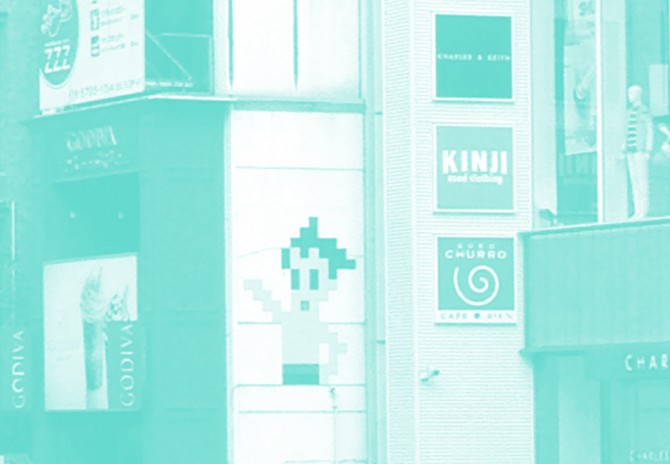 Last Saturday I returned from two and a half weeks in Japan. I've always wanted to go, and this was the year that my guy and I made it happen. Some things I expected to find include culture shock, neon, great food, weird food, lots of style, crowded subways, and many surprises. Japan delivered, and then some. Here are 11 things, in no particular order, that I thought were extra awesome and/or uniquely Japanese.
1. There is cool stuff everywhere you look.
In Osaka, while killing time before catching a train, we saw a street sign pointing to a shrine. There are shrines everywhere in Japan so we weren't expecting anything out of the ordinary. Then we rounded the corner and saw this guy:
2. Never-ending city.
On our last night in Tokyo, we went to New York Bar on the 52nd floor of the Park Hyatt. You might remember the place from Lost in Translation. You have to go pretty high up to get an idea of how enormous Tokyo is. Absolutely no regrets about the many Yen we blew on cocktails here.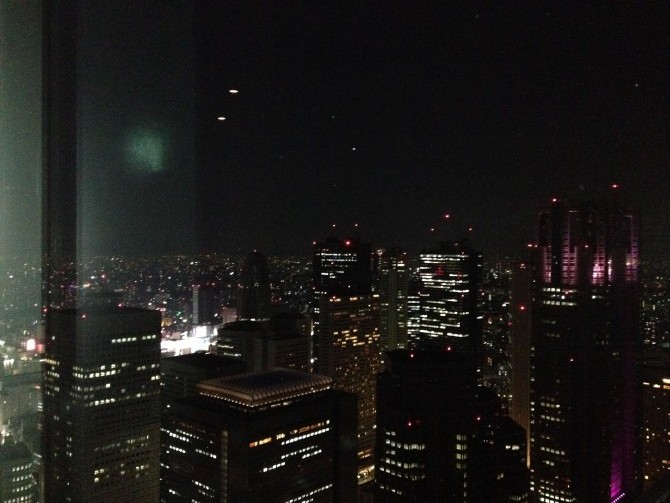 3. So polite!
I know, Canadians are famous for being polite. But in my experience, the Japanese take politeness to another level. Even the cashiers at 7-Eleven seem determined to provide the best customer experience they can. A simple purchase isn't complete without several rounds of thanking and bowing. Nowhere did we encounter an apathetic public-facing employee who let on that he would rather be in bed. Speaking of bowing, we decided we like it. One of my favourite examples of Japanese formality and politeness is fire trucks. While there are sirens, I guess they're considered a little too brash and abrupt, so the trucks are also equipped with a person with a megaphone telling people to "please get out of the way."
4.  The awesomeness of 7-Eleven.
Forget potato chips and endlessly rotating hot dogs. The 7-Elevens found on every block in Japan are full of real food options like sushi, edamame, and even hot soup and other hot meals.
5. People don't steal each other's stuff.
Japan is famous for having one of the lowest crime rates in the world and it shows. People don't even litter. Coming from Toronto, one of the most shocking symptoms of this well-behaved society is that most people generally don't lock up their bikes. The bike in the photo below is locked to itself (which you sometimes see), but I chose it because I love the custom colour palette (which is also very Japanese).
6. Green tea everything.
In Japan, matcha (essentially green tea) is right up there with chocolate and vanilla. The matcha soft serve pictured below is enough to make me want to go back.
7. Things that are really, really old.
I love Canada, but it is still a country in its infancy without the long, rich history of countries in Europe and Asia. The Airbnb apartment we stayed at in Kyoto was run by a writer from Los Angeles and his wife, a native of Kyoto. Her family has been running this soba noodle restaurant since 1465. With a legacy like that, you really don't have the option of letting it go. Plus, the lunch we had there was freakin' delicious.
8. Neon!
If you come to Japan expecting to have your corneas inundated with neon lights, you will not be disappointed.
9. Matsusaka beef.
In North America, Kobe beef is the one that got famous, but in Japan, Matsusaka is equally valid if you're after a deluxe piece of beautifully marbled meat.
10. Next-level photo booths.
While somewhat disturbing, most arcades and shopping areas come complete with photo booths that process your photos to give you whiter skin, bigger eyes, and makeup. You can also write and draw on your photos before printing them out. In general, we got the impression that teenaged girls in Japan have a lot of purchasing power.
11. So many cute little characters.
From safety signs, to menus, to street art, there are cartoon characters everywhere. Hello Kitty is just the beginning. We especially loved seeing nods to Japanese classics, like this Astro Boy mosaic found on the side of a building.
There you have it: 11 extremely Japanese things I found on my trip. I could keep going with 11 More Amazing Things I Found in Japan, but I have to get back to work now.
Gabriella is a Creative Director at 88 Creative. Follow her on Twitter @gabriellainga .