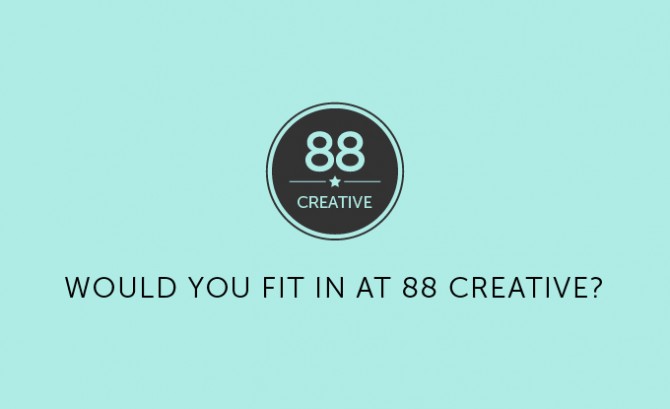 We're Hiring: PR Account Coordinator
Posted on April 20, 2015 by Erin Bury
We're hiring a PR account coordinator at 88 Creative to help grow our new PR practice.
Position details:
This person will be responsible for the day-to-day support and service of 88 Creative's PR efforts with existing and new clients – monitoring and researching industry news, trends, and competitors; writing and editing backgrounders, and pitches; compiling media kits; handling media relations across Canada; compiling media lists; and developing monthly/post-campaign reports. You'll work alongside the PR Manager on new & existing clients to research, develop, and execute PR strategies.
We're looking for someone with 1-2 years of experience in PR (preferably at an agency), and/or a degree in either public relations, communications, or journalism. Here are the qualities we're looking for in this hire:
Experience at an agency is a plus, but not necessary
Degree in communications, PR, or journalism is a plus, but not necessary
Social media literacy: you not only use social media in your personal life, but have incorporated social media into your PR campaigns in the past
Resourcefulness: You won't always know the answer to a question, but you can source it on your own
Love for words: you love writing, whether it's a press release or a communications plan. You have a passion for nerdy things like spelling and grammar, and would never be caught dead using the wrong your/you're or its/it's
Personality, both online and off: We're a small team and we like to have fun, so we want someone who fits the 88 Creative culture. We also need you to have a personality that shines through for each client, while still staying true to that client's goals and voice
Creativity: We're constantly cooking up creative ideas for our clients, and we need someone who's not afraid to throw out 15 crazy ideas to find the one idea that works
Great time management/attention to detail: You'll be working on several clients every day, and juggling multiple content creation/engagement/analytics platforms
About 88 Creative:
88 Creative is a creative communications agency in Toronto specializing in digital marketing, public relations, and design. We work with clients in the technology, consumer/lifestyle, and real estate categories helping to start, grow, or enhance their online marketing efforts. We also specialize in social media management, email marketing, digital strategy, WordPress, and print design.
In the past year our agency has been featured in the Toronto Star, Marketing Magazine, Canadian Business, CBC, Global TV, CTV, and Digiday, and we work with clients including Cityzen (the developers behind the L Tower), Mirvish + Gehry, Carnivore Club, and Knix Wear.
Our agency grew out of BuzzBuzzHome, Canada's largest new construction database. 
BuzzBuzzHome launched in 2009 and quickly become one of North America's most popular websites for new construction home buyers.
Where:
You'll be working at a brick and beam space at Spadina and Adelaide in the heart of downtown Toronto.
Perks of the job:
Competitive salary
Paid flex time
Comprehensive benefits plan
Stock options
Positive, open and supportive work environment
Uber-casual dress code
Unlimited healthy snacks
Think the job is a great fit for you? Email [email protected] with your resume, your LinkedIn profile, and any work samples.