Cards Against Real Estate: A Party Game for Horrible Torontonians
Posted on May 29, 2014 by Erin Bury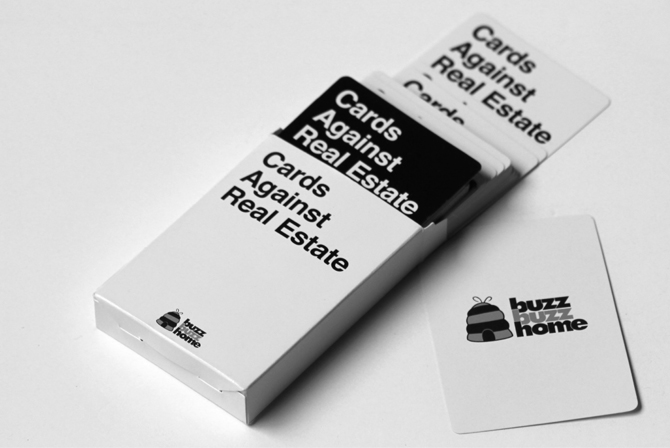 Between Rob Ford missing posters , #LenovoGate , and welcoming a new digital marketing coordinator , it's been a busy month at the 88 Creative office. One of the things that kept us so busy this spring is a project we worked on for BuzzBuzzHome , the company that owns 88 Creative.
BuzzBuzzHome is North America's largest database of new residential projects, and we share office space and a love for Toronto's real estate industry. It was either during a rousing Friday games night or one of our inspired Monday morning meetings when someone on the team suggested creating a real estate version of Cards Against Humanity, providing a more-than-slightly inappropriate take on condo towers, real estate agents, and the Toronto housing market.
We spent tireless hours brainstorming the cards (read: playing the original Cards Against Humanity game with drinks), and our creative team worked to create a similar look and feel to the original game, but with a BuzzBuzzHome twist.
The result? A shiny deck of Cards Against Real Estate expansion packs that can either be played on their own, or in conjunction with the original game. The game features black cards like "King West has the distinct smell of _____." and "These floor plans suck balls. Where am I supposed to keep my ____?" and white cards like:
Another shitty sales incentive
A drunken stupor
Paper-thin condo walls
Toronto Island residents who want some goddamn peace and quiet
Drake projectile vomiting after eating a cronut burger
We also wrote an info card that started with "Attention real estate jerks!" and ended with a joke about "firm offers," and outlined more about what BuzzBuzzHome does.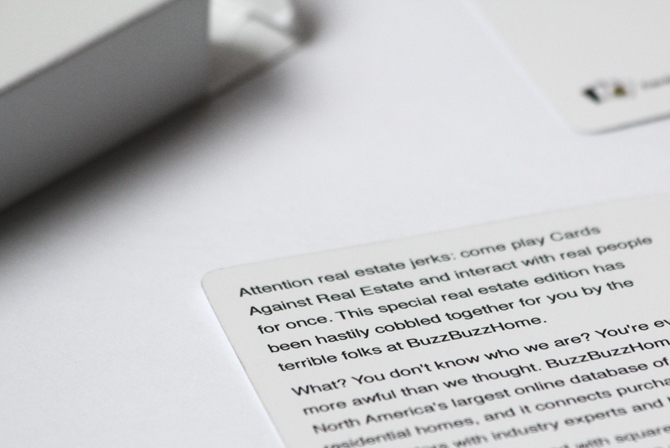 The goal for the project was to build the BuzzBuzzHome brand even more in its home market, and capture the attention of key stakeholders – and of course have a little fun with it. We sent packs of the cards and a similarly mean-spirited intro letter (it started with "you disgust us") to BuzzBuzzHome clients and partners, seeded it to journalists and social media stars, and sent it to anyone else who might find it offensive and awesome all at the same time.
Once we sent out the first packs the feedback started pouring in, and we were inundated with requests for the game. Here's how the campaign stacked up:
Coverage on BlogTO , Curbed , and The Globe & Mail (outreach also resulted in an interview with Bloomberg News)
Almost 100 people applied to win a pack of cards through BuzzBuzzHome's website
Tweets/Instagram posts from reporters, real estate agents, BuzzBuzzHome community partners like RateHub, and our favourite Toronto-based social media stars. See some of the Tweets here
Here are some of our favourite posts about Cards Against Real Estate:
Umm hi @buzzbuzzhome when the heck do I get my cards against real estate!? @romanbuilder and I want to play! #pleaseandthankyou

— Nikki B (@nikkbetts) May 22, 2014
The latest Cards Against ____ spoof takes on the TO real estate market. http://t.co/0hD6cfoojo pic.twitter.com/ZZxsef0Dzl

— blogTO (@blogTO) May 22, 2014
Has anyone written about @buzzbuzzhome 's Cards Against Real Estate game? Chock full of Toronto cliches. pic.twitter.com/oqdbYfrM6i

— Steve Ladurantaye (@sladurantaye) May 21, 2014
We're still watching the funny combos roll in at #CardsAgainstRE – post your fave cards using that hashtag, and make sure you break out the game on a fun Friday patio this summer.
For anyone wondering, the game has a Creative Commons copyright license, so you can reproduce it as long as it's not for commercial use – in this case we're giving it away, not selling it, so we're not affected. We have a limited number of packs, but if you're interested fill out this form – we're giving away several packs over the next few weeks.